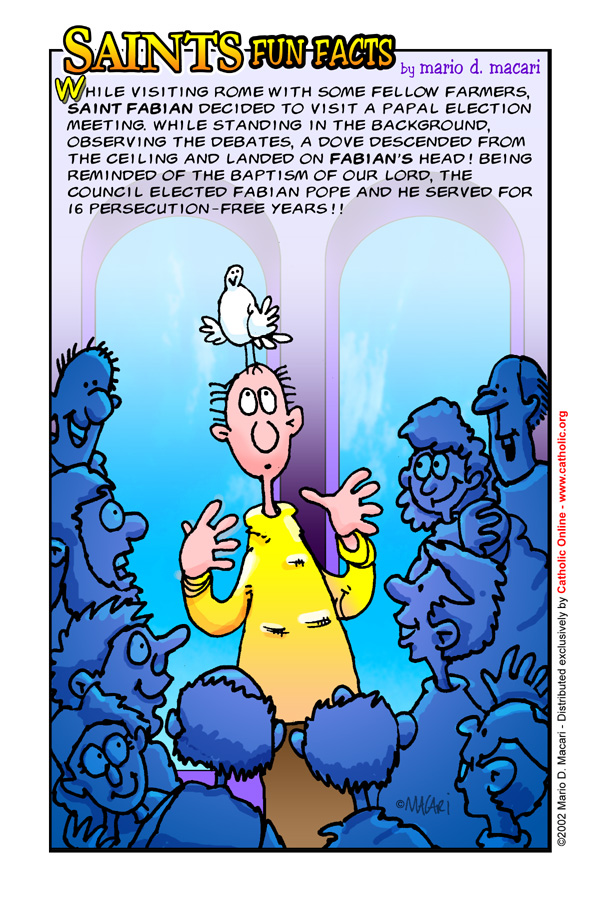 Fabian's election to the papacy (

236 - 250 AD)

is told by Eusebius in his "Ecclesiastical History" (VI, xxix ):

"It is said that Fabian, after the death of Anteros, came from the country along with others and stayed at Rome, where he came to the office in a most miraculous manner, thanks to the divine and heavenly grace. For when the brethren were all assembled for the purpose of appointing him who should succeed to the episcopate, and very many notable and distinguished persons were in the thoughts of many, Fabian, who was there, came into nobody's mind. But all of a sudden, they relate, a dove flew down from above and settled on his head as clear imitation of the descent of the Holy Ghost in the form of a dove upon the Savior; whereupon the whole people, as if moved by one divine inspiration, with all eagerness and with one soul cried out "worthy," and without more ado took him and placed him on the episcopal throne."
Link